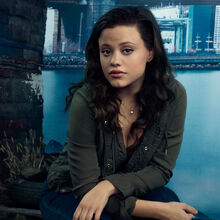 Cristina Santos is a main character in Shades of Blue. Christina is the daughter of Harlee Santos. She's a known musical prodigy. Her presence helped Harlee get them away from her abusive boyfriend, Miguel Zepeda. And is used by Stahl to get Harlee to cooperate or risk arrest. She is portrayed by Sarah Jeffery.
Ad blocker interference detected!
Wikia is a free-to-use site that makes money from advertising. We have a modified experience for viewers using ad blockers

Wikia is not accessible if you've made further modifications. Remove the custom ad blocker rule(s) and the page will load as expected.