Special Agent Robert Stahl is an FBI agent assigned to the Anti-Corruption Task Force and Santos' handler. His obsession with Harlee goes beyond work, as he secretly installs cameras in her home and hires prostitutes who must agree to be called "Harlee". He is portrayed by Warren Kole. In season 2 he sees and opportunity with Wozniak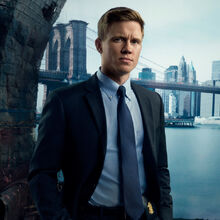 and uses him to get closer to who he really wants Julia Ayers.
Appearances
Ad blocker interference detected!
Wikia is a free-to-use site that makes money from advertising. We have a modified experience for viewers using ad blockers

Wikia is not accessible if you've made further modifications. Remove the custom ad blocker rule(s) and the page will load as expected.